OUR POLICIES

OUR POLICIES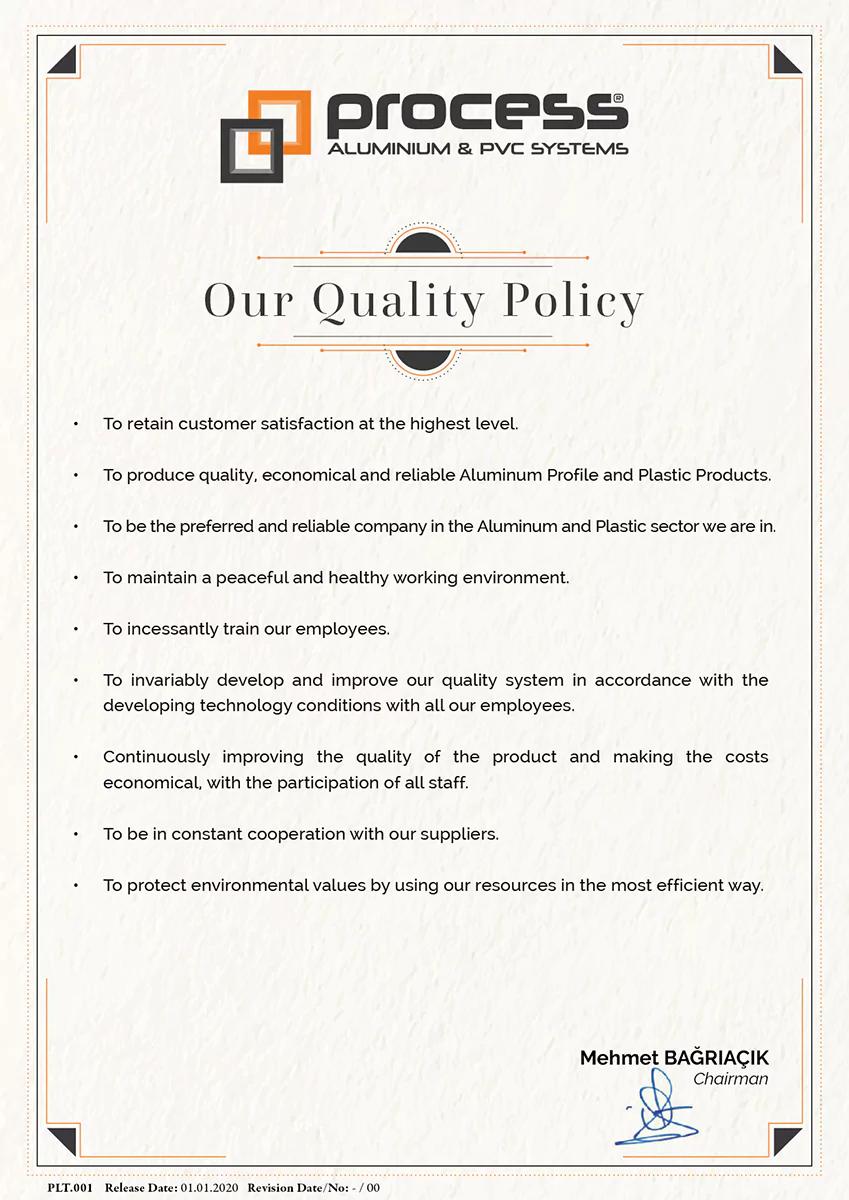 Our Quality Policy
To retain customer satisfaction at the highest level.

To produce quality, economical and reliable Aluminum Profile and Plastic Products.

To be the preferred and reliable company in the Aluminum and Plastic sector we are in.

To maintain a peaceful and healthy working environment.

To incessantly train our employees.

To invariably develop and improve our quality system in accordance with the developing technology conditions with all our employees.

Continuously improving the quality of the product and making the costs economical, with the participation of all staff.

To be in constant cooperation with our suppliers.

To protect environmental values ​​by using our resources in the most efficient way.
Chairman
Mehmet Bağrıaçık
PLT.001 Release date: 01.01.2020 Revision date/No: - / 00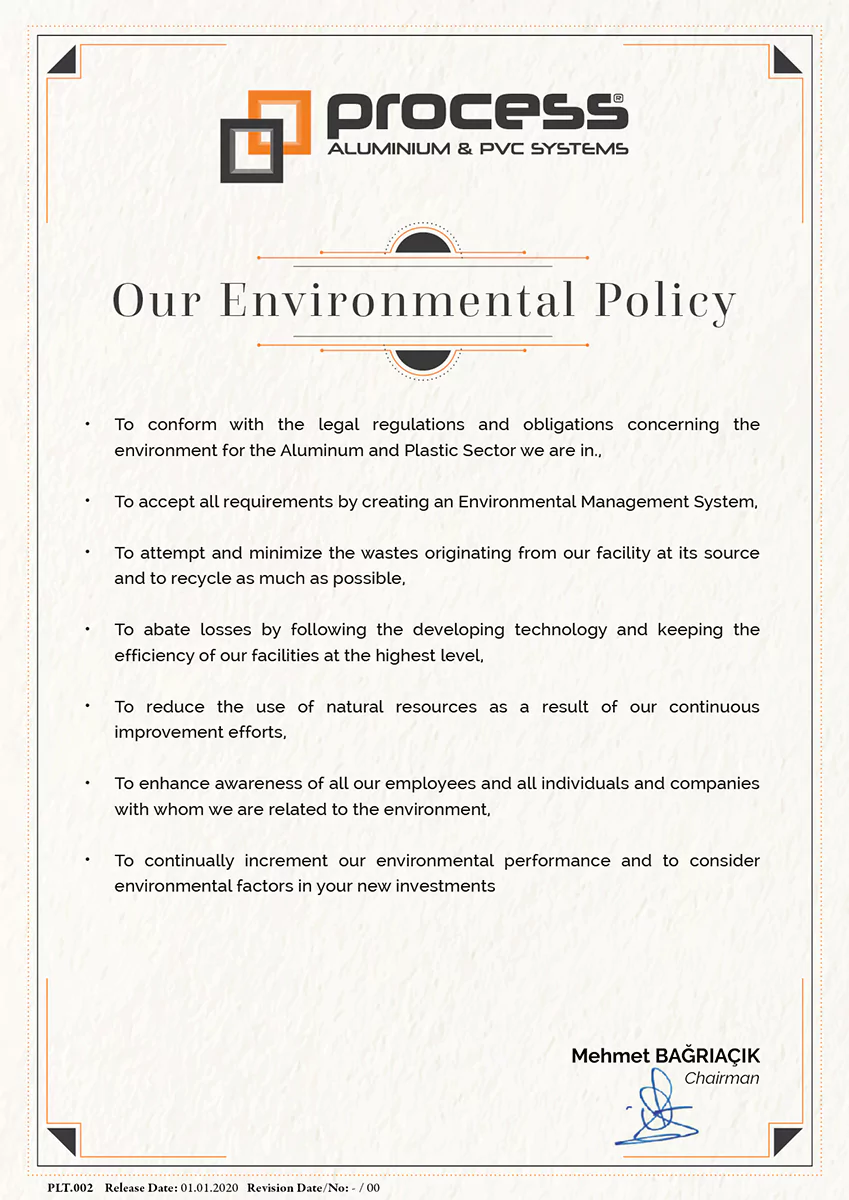 Our Environmental Policy
To conform with the legal regulations and obligations concerning the environment for the Aluminum and Plastic Sector we are in.,

To accept all requirements by creating an Environmental Management System,

To attempt and minimize the wastes originating from our facility at its source and to recycle as much as possible,

To abate losses by following the developing technology and keeping the efficiency of our facilities at the highest level,

To reduce the use of natural resources as a result of our continuous improvement efforts,

To enhance awareness of all our employees and all individuals and companies with whom we are related to the environment,

To continually increment our environmental performance and to consider environmental factors in your new investments
Chairman
Mehmet Bağrıaçık
PLT.002 Release date: 01.01.2020 Revision date/No: - / 00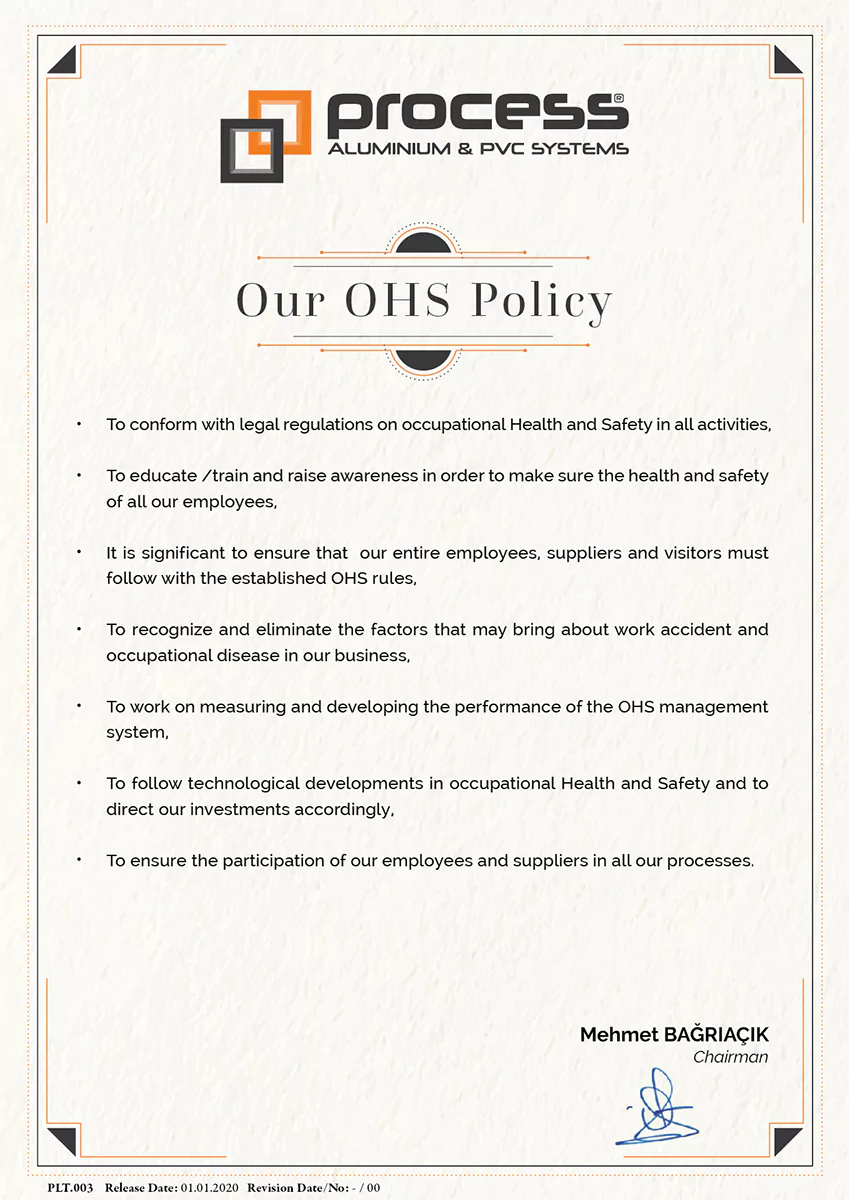 Our OHS Policy
To conform with legal regulations on occupational Health and Safety in all activities.,

To educate /train and raise awareness in order to make sure the health and safety of all our employees.,

It is significant to ensure that our entire employees, suppliers and visitors must follow with the established OHS rules,

To recognize and eliminate the factors that may bring about work accident and occupational disease in our business.,

To work on measuring and developing the performance of the OHS management system.

To follow technological developments in occupational Health and Safety and to direct our investments accordingly.,

To ensure the participation of our employees and suppliers in all our processes.
Chairman
Mehmet Bağrıaçık
PLT.003 Release date: 01.01.2020 Revision date/No: - / 00
Why Process?
Process Plise Pleated Blinds Systems
We produce for you!
Providing service with its expert staff in quality, Process aims at your satisfaction as the number one and gives full response to your requests.
It serves you in a way that has a mission. Quality awareness, especially managers, all the way down to the lowest level.
We bring customer values ​​to the fore with our company that instills in its employees, pays attention to details, and offers a fast, clean and trouble-free delivery and assembly phase.
With its staff who love their job and care about their job, they are always friendly, know their job and they are in every branch of the chain of events that develop from production to delivery.
As a company that dominates, we guarantee high quality and satisfaction with the work we deliver to you. We are experts in every field from production to assembly.
In addition to the quality we guarantee in our work, we guarantee fast delivery and your glass balcony installation with zero errors. Latest technology in glass balcony sector in Konya
We add value to your architecture with our equipped glass balconies and save you money.
Quality manufacturing process based on innovation.
Production projection in accordance with certificates and standards.
Warranty certificate on all products we produce.
Quality standards and accreditations.
A structure that constantly analyzes customer expectations.